04/18/2018
Amazon estimated to have 70-plus private brands
E-commerce giant has been building its private label brands over the past few years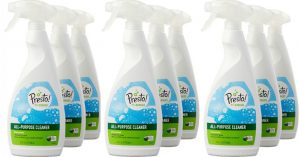 Technology news website Recode.net has calculated that Amazon now has 74 private brands across the apparel, food, personal care and household goods categories.

Recode's article cites research from L2 that found Amazon had introduced at least 60 own brands since the beginning of 2017.

"We take the same approach with private label as we do with anything here at Amazon," Amazon said in a statement to Recode. "We start with the customer and work backwards, aiming to bring them products we think they will love. We continue listening and learning from customers as we expand our selection."

In August, business site Quartz said after looking at Amazon's trademark applications it found 19 brands were owned by Amazon but, for the most part, were not clearly identified as Amazon brands on the site.

In other words, consumers may be buying Happy Belly coffee or Wagyu Single Cow burgers without realizing they are actually brands made by and for Amazon.

READ: Amazon pushing into private label products

At the time, Quartz reporter Mike Murphy wrote: "Perhaps what Amazon is trying to do as it rapidly expands into new businesses—especially business areas where it might not have forged partnerships with well-known brands—is to give the impression to customers that there are tons of options to choose from, when in fact, they're really just choosing between different Amazon brands."

While FoodDive's Jeff Wells wondered if the lack of transparency could hurt Amazon, he also said the move made sense since consumers may not like the idea of their Wagyu beef burgers coming from a company famous for distribution and technological innovation.

A version of this article appeared at StoreBrands.com.