02/13/2020
Sunterra Market transforms downtown Calgary location
Bankers Hall store doubles in size and delivers new culinary options
This is no run-of-the-mill renovation.

Sunterra Market & Café has completely transformed its location at Bankers Hall—an office building in downtown Calgary. The store has doubled in size to 7,400 square feet to house new culinary offerings and a licensed seating area.

The site is the specialty grocer's first location, which opened 30 years ago.

"We were space-constrained throughout our years here. It's always been a very successful location for us," said Glen Price, president of Sunterra, in an interview with Canadian Grocer. "When vacated, it allowed us to look at what might be possible in terms of expanded offerings and at the same time, do a whole redesign and redevelopment. It wasn't just a renovation—we demoed the entire
space and basically started from scratch."

Sunterra Market & Café will continue to focus on groceries and takeout meals for the downtown office crowd, but now has an 85-person seating area, complete with charging stations and wifi.

The new culinary offerings include:
•Made-to-order pizzas cooked in a new pizza oven from Italy, which heats up to 1,000 degrees and cooks pizzas in 90 seconds or less.
•A bakery and beverage bar featuring fresh bread and pastries, as well as fresh-squeezed juices, coffee, espresso-based drinks and wine and beer.
•A considerably larger salad bar that includes stations for hot-cooked meats that can be added to custom-made salads.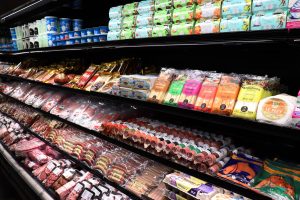 The store also serves up rotisserie meats and piadina flatbread sandwiches; all-day breakfast; fresh pasta; and the European-style "big pans" that Sunterra is known for—three-foot-wide cast-iron pans that hold made-from-scratch stews, paella and more.

With the new store, Sunterra is aiming to attract new clients and encourage more trips from its loyal clientele. "The new space handles much better at every point in the day," said Price. "We work hard at trying to capture breakfast, lunch and take-home business at the end of the day."

Sunterra Market has eight retail locations in Calgary and Edmonton and plans to open a new store in Red Deer, Alta. this summer. The company's roots go back 50 years, to the Price family farm in Acme, Alta. In 1990, Sunterra Meats began processing pork products from Sunterra Farms and the first Sunterra retail market opened, offering farm-to-market foods.