02/01/2021
Loop brings zero-waste shopping platform to Canada
Loblaw is the founding retail partner, while brands include Kraft Heinz, Nature's Path and Nestlé
Loop—an online waste-free shopping platform—has arrived on Canadians' doorsteps with the launch of Loopstore.ca and Maboutiqueloop.ca.

The service, from waste management company TerraCycle, lets shoppers buy a range of grocery and household items in durable packaging, delivered in a Loop tote. When they're done with the products, the empty packaging is picked up in the tote, sanitized, refilled and reused.

Loblaw, which began a pilot in Toronto with Loop last year, is Loop's founding retail partner. Initially rolling out to residents in most of Ontario, customers can shop for items such as ice cream, sauces, snacks, pet food and toothpaste. Brands that are participating in Loop Canada include Kraft Heinz, Nature's Path, Nestlé, Häagen-Dazs, Hershey Canada and Noice, along with a selection of Loblaw's President's Choice products.

In a press release, Galen Weston, executive chairman of Loblaw Companies, said Loblaw is actively reducing plastic waste in hundreds of ways through better processes, new materials and packaging design. "Loop is one of the most innovative opportunities as we work with them to make it easier for consumers to be part of the solution," he said.

Loop is working with retailers in each of its launch markets. In addition to Loblaw's in Canada, it has partnered with Carrefour in France, Walgreens and Kroger in the U.S., Tesco in the U.K., Woolworths in Australia and Aeon in Japan. The company said its retail partners are integrating Loop into their e-commerce sites, and are beginning to integrate into their physical stores.

"Loop is designed to be as convenient as the single-use shopping experience while creating a sustainable, circular model for consumption," said Tom Szaky, founder and CEO of Loop and TerraCycle, in the release. "Collaboration is necessary to tackle the waste crisis head on. As Canada's largest retailer, Loblaw's operational scale and years of expertise will make Loop accessible to more shoppers and make meaningful progress toward our shared goal of reducing waste."

Customers pay a deposit on each package, which is fully refundable when it's returned. Packages are shipped using Loop Canada's logistics provider, FedEx. Customers can schedule a free pickup at home or drop off their totes at a participating FedEx retail location in Ontario.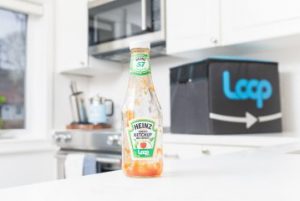 For CPG brands, partnering with Loop is an opportunity to help them meet their own sustainability goals. Kraft Heinz Canada, for example, has a goal to make 100% of its packaging recyclable, reusable or compostable by 2025. "For us, partnering with Loop was a natural fit to help us achieve and accelerate our progress against this goal," said Nicole Fischer, head of sustainability at Kraft Heinz Canada, in an interview with Canadian Grocer.

"We know Canadians are looking for more sustainable options that are convenient that they can feel good about, and that—especially in this environment—are safe. Through this partnership, we can make sustainable options more accessible for Canadians."

In a December 2020 survey commissioned by Kraft Heinz Canada, the vast majority of Canadians (83%) said they want to reduce packaging on groceries. In addition, 78% want zero-waste packaging on grocery products and 65% make an effort to choose brands whose products come in sustainable packaging (either recyclable, reusable or compostable).

Fischer said the pilot with Heinz ketchup is a way for the company to test and learn, and Kraft Heinz Canada may add more products to the Loop platform in the future.